Tanzanian Companion Church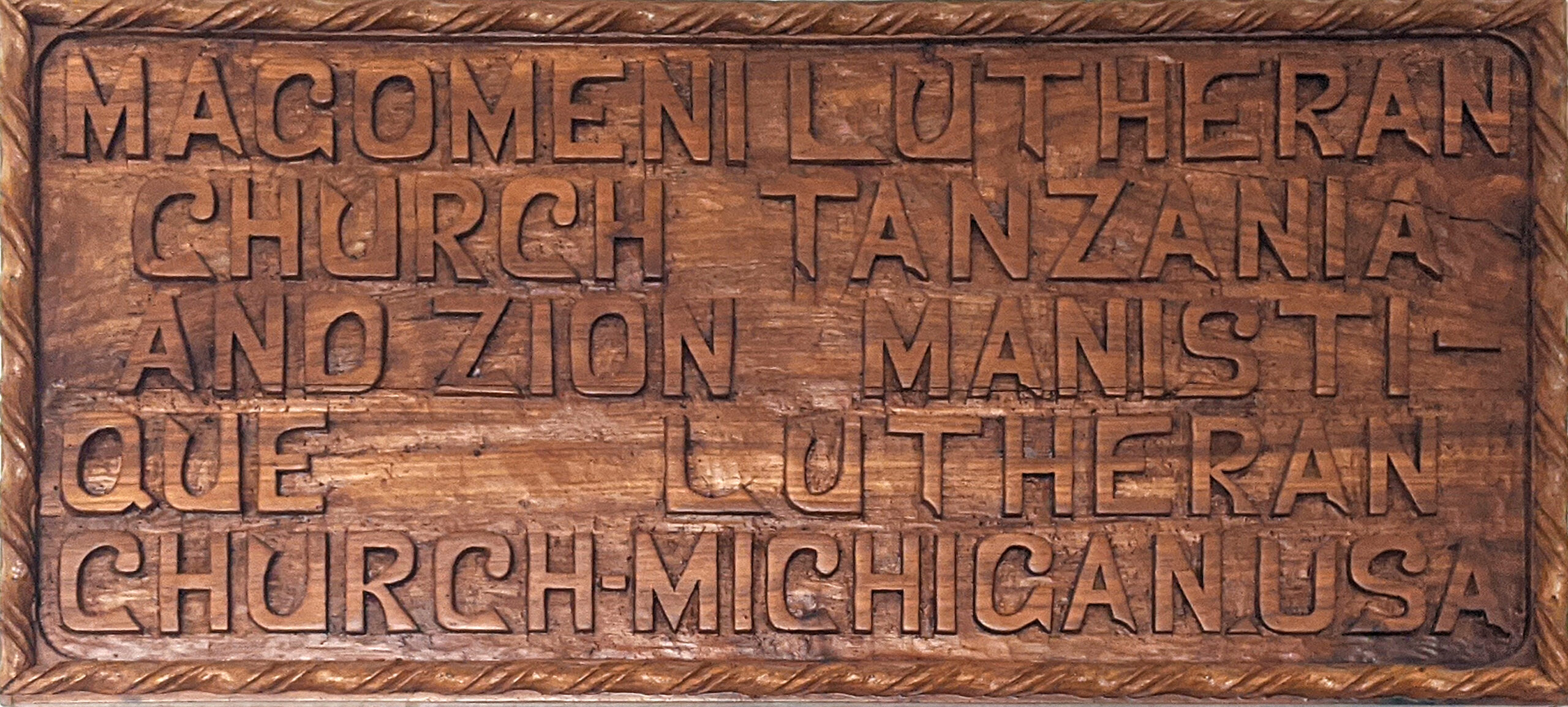 A Partnership in the Gospel
Starting in 2002, Zion Lutheran Church began a partnership with Magomeni Lutheran Church in Dar es Salaam Tanzania, Africa. Our mission in the partnership is to learn from one another and our different cultures, and to accompany one another in our faith. This is not a monetary relationship, but it is one of sharing and caring for each other along the journey. The sign above was handcrafted by members of Magomeni Lutheran Church to commemorate our partnership, and hangs in our church entryway. In a blessed exchange of hospitality, we have hosted guests from Magomeni, and we have taken our turns to be guests in Magomeni. Our most recent exchange was a trip of Zion members to Tanzania in August of 2016. It is our great joy and hope to continue walking shoulder-to-shoulder as people of faith and to see what the next chapter in this partnership will bring.
Our first trip to Tanzania was in 2009, when two of our members joined a Northern Great Lakes Synod work crew based out of Kisarawe Lutheran Junior Seminary in East Africa. This crew spent most of their time in Kisarawe but had two weekends of worship with our companion congregation in Magomeni.
Magomeni sent visitors to Zion in 2013, and they visited Escanaba, Munising, Newberry and Marquette in addition to Manistique. They led us in worship singing Swahili songs and Pastor Mwinuka preached a sermon while they were here.
Five of our members returned to Tanzania in 2016 and stayed with host families of Magomeni. We studied scripture together, visited historical sites as well as the Kisarawe Junior Lutheran Seminary, a sub-parish of Magomeni called Matumaini, Mikumi National park and met many of the 2,000+ people from their congregation.